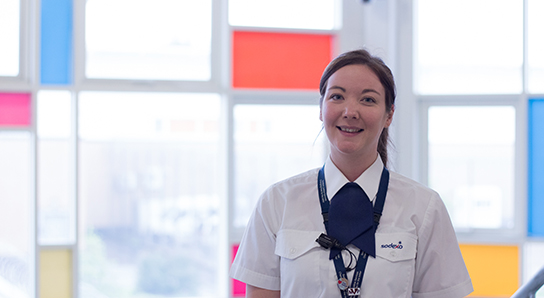 HMP Addiewell opened in 2008 and is run by Sodexo Justice Services under contract to the Scottish Prison Service. It houses convicted and untried adult males and is situated in the village of Addiewell in the central belt of Scotland between Glasgow and Edinburgh.
Addiewell is designed as a "learning" prison, where residents can address their offending behaviour and the circumstances which led to their imprisonment through Purposeful Activity. Find out more.
We are committed to promoting diversity and inclusion, eliminating discrimination and meeting the diverse needs of all residents, employees, families and visitors.
Early Days in Custody
We understand that coming into prison, especially for the first time, can be very daunting and overwhelming – and good support in the first few days is crucial. We've worked hard to create a support structure to help men when they arrive at HMP Addiewell – complete with peer mentors.
Our induction process is the first experience for new residents. This is known as our Early Days in Custody and is facilitated from our Early Days Centre – a residential wing dedicated to the needs of new residents. It has its own look and feel to create a really tangible journey for new residents between their arrival and subsequent move into the general prison population.
New residents spend their initial days in custody in our Early Days Centre. During this time, it provides an opportunity for new residents and our staff to:
Help new residents settle into the routines of the prison.
Equip new residents with the information and support they need to best manage their time in custody.
Ensure that they are familiar with processes such as ordering menu selections, purchasing items on the canteen, accessing visits and essential information for training and education.
Enable staff to ensure any early concerns or issues are identified so the appropriate support can be provided.
Insiders
We know new residents can feel overwhelmed by their move into the general population – often not showing that they're experiencing difficulties and challenges.
To further support new residents, a key part of our Early Days Centre are our 'Insiders' – existing residents who have been vetted and trained to provide peer support to new arrivals.
The Insiders spend time with new residents as they settle in, providing immediate reassurance and guidance to alleviate many of the stresses that a new resident can feel when arriving into a prison for the first time.
Insiders are also an important link between staff and residents. There may be times when a resident is unsure of a process, needs information or advice and doesn't feel comfortable approaching prison staff. The Insider can provide the familiarity and understanding of someone who has been in their position, speaking from a position of empathy and experience.
Insiders can also help staff to identify residents who may be struggling to adjust or require additional support. As part of their duty of care and without breaching confidentiality, they are able to flag to staff that a resident may be feeling down or showing signs of potential self-harm, enabling officers to monitor their wellbeing and offer support where appropriate.
We hope by providing this key support in the first few days in custody, we'll create a safer community for residents to live and our staff to work.