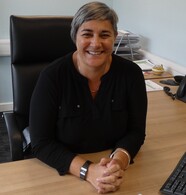 Welcome to HMP Addiewell, a prison privately operated by Sodexo.
I have recently taken up the post as Director at HMP Addiewell after seven years at HMP Northumberland – undertaking the roles of Deputy Director and Director whilst there.
I am proud to work for Sodexo, a company who live by strong values around service spirit, team spirit and the spirit of progress.
Service Spirit
My staff, and the partners with whom we work closely and collaborate, all work at HMP Addiewell because we have an important role – to keep prisoners in safe and secure custody. But our roles are far broader than this and we understand that we are here to help every person become a better individual who can successfully resettle upon release and lead positive lives in our communities.
My role, and that of my senior team, is to support the needs of our staff – helping them fulfil their career aspirations and meet our overarching objective to change lives for the better. This is at our core and we try our very best in delivering this Sodexo spirit every day.
Team Spirit
Every person living or working at HMP Addiewell is a crucial part of a team and their role within that team has the power to change lives. Sodexo staff are proud to help prisoners grow and develop during this period in their lives. Whether our staff work within our residential team, provide educational and vocational training, are based in our kitchen or in our facilities management department, we all contribute to this single objective.
Prisoners play a pivotal role in their teams, both helping other prisoners and supporting staff also. We understand that coming into prison can be dauting. Our Insiders provide peer support and guidance to other prisoners, but especially to new prisoners, helping them settle into the routines of the prison. Our prisoner workforce help deliver some of these routines, such as food and cleaning.
We have a variety of partners who deliver aspects such as health services, social work and support to families to name but a few. Together we collaborate to meet the best needs for our prisoners.
We all have a part to play.
Spirit of Progress
Operationally we seek to maintain a safe, clean and settled environment which encourages our population to change and grow during their time here.
We may not get everything right, all of the time, but our commitment to progress means that we are keen to review our mistakes and try again, and harder next time to get it right. With the help of our prisoner population in our ventures I am confident we can continue to progress and make HMP Addiewell the best prison of its kind.
Samantha Pariser
Director