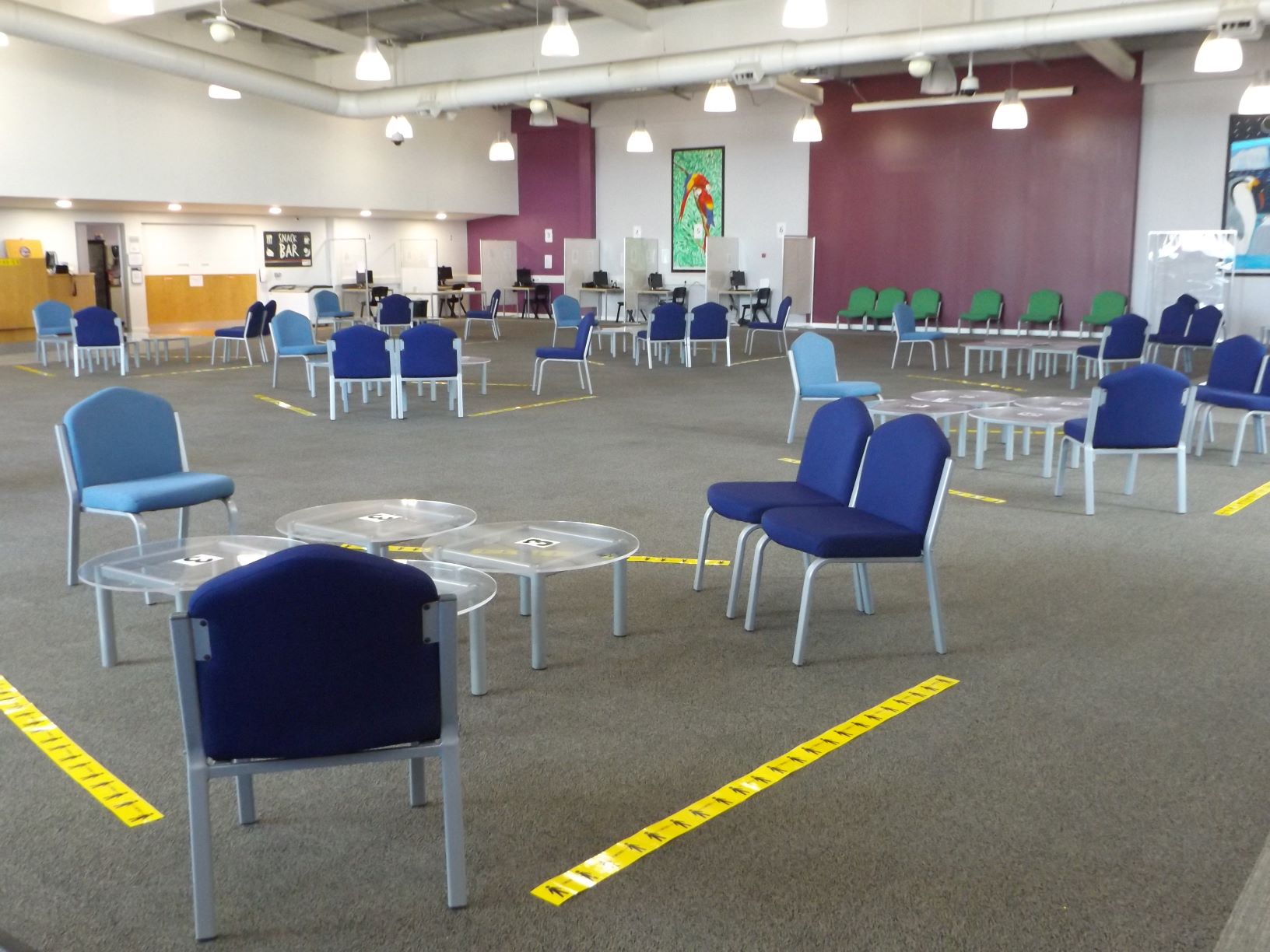 Visiting HMP Addiewell
We understand that visiting a prison can be quite daunting, especially if it is your first visit, so we try to make your experience as positive as possible.
There is a visitors' centre upon entry to Addiewell and this is run in partnership with the Cyrenians, offering support for those who are visiting relatives and friends in prison.
There is full wheelchair access to the visits hall and disabled toilet facilities.
Any visitors aged 17 years or under must be accompanied by an individual of at least 18 years of age. Any visitors under the age of 17 must have appropriate identification.
Security: As you would expect, security is a major consideration for us, so all visitors are required to comply with our rules of conduct and behaviour.
What to expect
Guidelines of what to expect when visiting HMP Addiewell.
To ensure that we provide the most robust and streamlined service possible, and to enhance our searching process, we ask that all visitors (including children) remove everything from their pockets and place these items in the red trays provided. Lockers are provided for visitors to store unauthorised items. All authorised items including money, jewellery, belts, watches and locker keys must be put through the x-ray machine. You may also be asked to remove your footwear.
On a first visit, visitors should bring approved identification (listed below) to register on the electronic system. This records visitor's photos and finger scan image.
Therefore you should arrive at least 20 minutes prior to your first visit, to allow time to register. Once you are on the system, the process for future visits will be quicker, but if you can let us know if you are ever running late, we may be able to accommodate the visit.
On a first visit, visitors will be required to show:
Photographic ID
One of:
Driving licence, or
Valid passport, or
Citizen's card, or
Bus pass (credit card style) or Disabled car badge
Young Scot Card (with visible hologram)
Visitors must also provide proof of their address, which must be less than three months old:
Utility bill (gas, electricity, telephone etc)
Bank or building society document
Headed letters (doctor, dentist etc)
If photographic identification is not provided, the Operations SPCO/Manager will be contacted for advice.
Children will not be registered on this system, however names and dates of birth of all children must be recorded on the booking.
While we recognise that visits, at times, can be highly emotive, our staff and visitors' centre staff are there to support you but any aggressive or inappropriate behaviour will not be tolerated. For security reasons, you may be refused entry to the open visits facility and instead offered a closed visit.
Visiting times
Details about the social (friends and family) visiting times allowed at HMP Addiewell.
Social visits are offered at the following times.
Monday Tuesday - Friday Saturday & Sunday
13:30 – 14:30 13:30 – 14:30 13:30 – 14:30
14:45 – 15:45 14:45 – 15:45 14:45 – 15:45
19:00 – 20:00 16:00 – 17:00
How to book a family / friends visit
Details about How to book a family / friends visits to HMP Addiewell.
Convicted prisoners at HMP Addiewell can book their own visits using technology on the wings.
For those on remand, they can also book their own visits but have to give at least 24 hours notice.
Alternatively, visitors can book remand visits (allowing 24 hours notice) using the dedicated phone line: 01506 874 500 and select option two (open Monday – Friday 9am-12pm and 1pm-4pm).
When phoning the visits booking number visitors should know the individual's name, number, date of birth, the date and time of the required visit and details of who is visiting.
Visitors will need to provide names, dates of births and addresses.
How to book an agents / legal visit
Guidance on how to book an agents / legal visit.
Legal visits are booked by telephone 01506 874 500 and select option 2.
24 hours' notice is required to book visits and the line is open Monday – Friday 9am-12pm and 1pm-4pm.
Legal visits can also be booked via email: AD.Visits@sodexogov.co.uk.
For more information for solicitors looking to register for and use video link technology to conduct meetings with their clients in custody visit the Scottish Legal Aid Board website.
How to hand in property
Instructions and guidelines for visitors wishing to hand in property to HMP Addiewell prisoners.
Posting Property
You can post in property (one parcel per month) for prisoners at your own expense - inlcuding books from our approved supplier. All parcels must have prior approval in order to be accepted and be marked for the individual's attention with their date of birth, prisoner number and property reference number clearly displayed.
Property Hand-In Process
If you're an appoved visitor, you can hand in property (one parcel per month) to the property desk at visits - this includes books purchased from our approved supplier. All property must have prior approval in order to be accepted and you must mark the parcel for the individual's attention with their date of birth, prisoner number and property reference number clearly displayed.
How to hand in money
Guidance for those wishing to give money to prisoners of HMP Addiewell.
Unfortunately, you are not able to bring any money with you for a prisoner during visit times.
Prisoners can be sent money (we advise sending recorded delivery), postal orders or cheques. Cheques will be banked by finance department and can take up to 10 working days to clear.
Family Information Sessions
Our family information session here at HMP Addiewell gives you the opportunity to come along to an informal information session.
This consists of:
A one hour free visit as normal in the main visit hall.
Followed by a presentation to you and your relative by one of our family information team.
This gives you more of an insight into what happens within the prison i.e. prison regime, work/education/healthcare/liberation process etc. Information will be given explaining what support is available to you and your relative while they are in custody. This will also give you the chance to ask any questions and highlight any concerns that you may have.
Speak to staff for an application form.
How we collect and use your data
COLLECTION OF DATA
In order to facilitate your visit to one of our prisons and to ensure that we deliver appropriate levels of security and safety and prevent crime, for identification purposes we shall collect your name, date of birth, address, a biometric template of your fingerprint and a photograph. A series of reference points from a finger print are collected, allowing a unique identification pattern. We do not collect or hold actual fingerprints.
Our prisons operate CCTV and staff may wear Body Worn Video Recording Equipment. We do not collect biometric readings or photographs of children under 16, however with the use of CCTV, images may routinely be captured.
PHONE CALLS AND VIRTUAL VISITS
All phone calls and virtual visits are recorded and monitored.
DATA SHARING
We will only share your information with a third party where there is a legal obligation to do so.
RIGHTS OF ACCESS, CORRECTION, ERASURE AND RESTRICTION
You have legal rights in connection with personal information. Under certain circumstances, by law you have the right to:
Request access to your personal information (commonly known as a "data subject access request"). This enables you to receive a copy of the personal information we hold about you and to check that we are lawfully processing it.
Request correction of the personal information that we hold about you. This enables you to have any incomplete or inaccurate information we hold about you corrected.
Request erasure of your personal information. This enables you to ask us to delete or remove personal information where there is no good reason for us continuing to process it. You also have the right to ask us to delete or remove your personal information where you have exercised your right to object to processing.
Object to processing of your personal information by us or on our behalf in certain situations.
Request the restriction of processing of your personal information. This enables you to ask us to suspend the processing of personal information about you, for example if you want us to establish its accuracy or the reason for processing it.
DATA RETENTION
We keep personal data in accordance with our clients' and Sodexo's retention procedures. These retention periods depend on the nature of the information (e.g. we apply different retention periods to different type of information such as CCTV and your visitor record), and may be subject to change.
If you have any questions or concerns about how long we retain your personal data, please contact the Data Protection Officer using the details below.
FURTHER ADVICE / GUIDANCE
To exercise your rights, you can contact us by writing to us at the following address: dataprotection.ukandie@sodexo.com or email the Global Data Protection Office at the following email address: dpo.group@sodexo.com stating your surname, first name and the reason for your request. We will most likely ask you for additional information in order to identify you and to enable us to deal with your request
You also have the right to contact the Information Commissioner's Office and file a complaint. (https://ico.org.uk/concerns/)